Applied Science: Behind The Numbers, 12/13/2019
"You wanna know how to rhyme you better learn how to add/ It's mathematics" - Mos Def
Welcome to the wave of new followers who've come in since my last little dispatch about distribution. I'm putting the finishing touches on this particular edition of Applied Science as I walk a mile up the ramp to LAX before heading out of country for vacation—the traffic is, somehow, that bad. "Behind The Numbers" is a continuation of an experiment I cobbled together in November: Looking at some intriguing numbers in music and the stories behind them. This format is directly inspired by The 538's Significant Digits and former Sig Dig author Walt Hickey's newsletter Numlock News, two great ways to digest a lot of news at once through a reader-friendly format. Since the format doesn't seem to be proprietary (and in homage because I'm such a fan of both newsletters), I figured I'd refit it specifically to music data and news. You should subscribe to them both.
30 years
That's how long legendary electronic label Warp has been around. Resident Advisor did a fantastic oral history of one of electronic music's most iconoclastic, defining labels. You should read it all; there's not much I can add, beyond my personal favorite records in the catalog (Prefuse 73!) and admiration for the label that shaped so much of my understanding of electronic music's breadth and idiosyncratic possibility. More than anything, this oral history shows that great labels form through fearless reinvention, impeccable (and discerning) taste, luck, and, quite often, conflict. It is ostensibly honest and should be an inspiration to any young creators looking to spring business from passion.
(Source: Resident Advisor)
$50 million
When was the last time you thought about the origins of music publishing? Or about why a master recording generates a separate (but related!) stream of revenue from a song's publishing? It's a complex division that can be broken down in simple terms, but that breakdown is for another place in the Applied Science universe. The basic gist: "masters" refer to income derived from the sale, streaming, and reproduction of recordings, "publishing" refers to the income derived from uses of the intellectual property embodied on those recordings. The first and most basic example of how publishing differs from master income is sheet music and lyrics. On their own, sheet music and lyrics still represent the intellectual property that ends up on a recording, whether an original song or a cover. While sheet music doesn't make up as large a proportion of music income as it once did (think the era of ragtime and Scott Joplin), it still makes for an important (and lucrative) battle ground as old, analog realities enter digital spaces.
Which brings us to Genius' $50 million lawsuit against Google "over allegedly stolen song lyrics." Genius, as you may recall, started out as a tool for annotating lyrics (and I believe it was investor Ben Horowitz who said the future of annotating "the internet," whatever that meant), but has since become the primary lyric database on the web. Genius alleges that Google has been serving up lyrics scraped from Genius in response to search queries on its platform—an anti-competitive practice that keeps users from making their way over to Genius when looking for song lyrics (or to read Quando Rondo's annotations on his own songs). Genius "watermarked" its lyrics, allowing them to track lifted uses on Google on its partner LyricFind. You can see an example of this infraction below, taken from the court filing (which you can read in full here, if you are a lawyer or a sadist).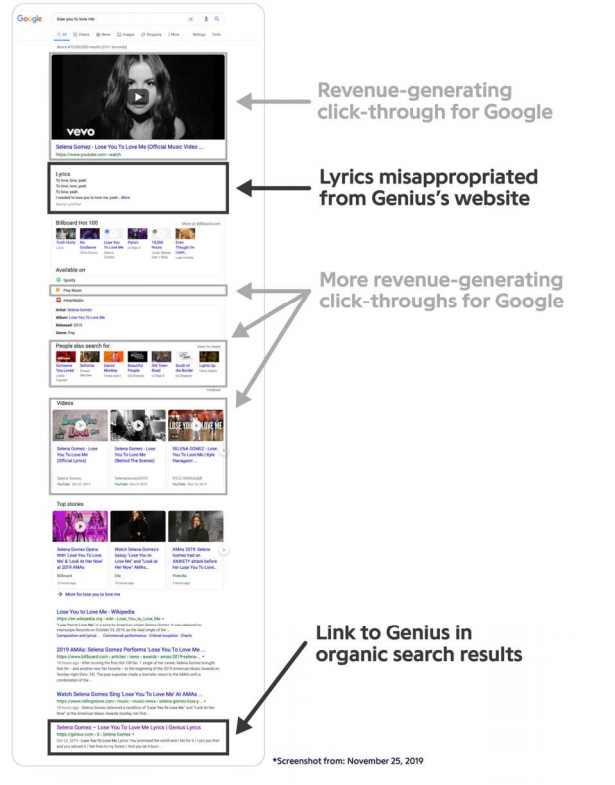 The $50 million in damages does not represent any copyright claims, as Genius doesn't own any of the lyrics it hosts; instead, the complaint alleges that Google is both breaching its terms of service and profiting unfairly by standing on Genius' shoulders (or, more precisely, the multi-million dollar investments Genius has made in order to build lyric databases and a wider content business around them).
I'm not sure where this $50 million originated. It's a nice round number. Not as impressive as the $1.6 billion publishing company Wixen sued Spotify for last year, but still enough to make you spit out your coffee (or maybe just sigh if you're one of Google's lawyers and this is the 50th $50 million lawsuit you've seen this year). I'd be curious to see how Genius came to this figure; I imagine it's tied largely to potential lost ad revenue, but I have a hard time determining other sources. One thing to bear in mind as well: Since Genius does not own these lyrics, it doesn't seem as if their argument hinges on Google's practices harming creators. As a result, none of the money sought in damages would ever find its way back to songwriters when their work is the only reason these two companies are able to profit off of lyrics in the first place.
This suit brings to mind Genius' first tussle with Google back in 2013, when Google punished the nascent start up (then still called RapGenius) for "dubious SEO practices." I doubt the remaining Genius founders are seeking retributive justice for Google's prior censure, but I also can't imagine the irony of this situation is lost on the remaining brass from Genius' earlier, more lawless days.
(Source: Wall Street Journal)
$650 million
Speaking of large amounts of money that are large to most normal folks, but aren't actually that large to those used to playing with them: Warner Music Group and Providence Equity Partners recently founded Tempo Music Investments, with the aim of investing as much as $650 million in acquiring catalogs. Their splashiest, initial acquisition is super-producer Jeff Bhasker, whose discography includes work with Kanye West, Beyonce, Bruno Mars, FUN., Lana Del Rey, and Mark Ronson, among others; he isn't superstar, but he is (or was) undoubtedly the owner of one of music's most lauded and lucrative catalogs. It is an undoubted boon that will continue to reap rewards as long as its copyrights continue to generate revenue.
The announcement of Tempo comes at the close of a year in which Merck Mercuriadis' publicly traded Hipgnosis Fund absorbed more catalogs, while companies like Royalty Exchange and Vezt increased their footing as viable marketplaces for the buying and selling of rights futures. We're two or three years into the genesis of a speculative music market that exists in parallel to the established music industry; Warner's move is, as far as I can tell, the first explicit acknowledgement by a major label that the catalog business (and the speculative rights business) is one worth wading into, not just sideshow that promises creators quick cash outs.
(Source: Bloomberg)
10%
This news is a little over a month old, but still piqued my interest. Heading into 2020, 10% of Chinese streaming giant Tencent's library will stand behind a paywall, per the company's Q3 report. At the start of the year, 0% of its music was behind a paywall—great for Tencent's reported 661m free subscribers. While Tencent's free user base dwarfs Spotify's, the Swedish incumbent has over three times as many paying subscribers (113m) as its Chinese competitor (35.4m). No doubt this gap inspired the move to test out pay gating some musical content. Tencent CEO Cussion Pang noted that the company was "receiving really encouraging results" from its early experiments in paywalled content, providing evidence "that people are willing to pay for high-quality content."
While this sort of paywalled content will undoubtedly apply in large part to songs and albums from pop stars, it is interesting to envision a world in which smaller artists and labels can use this sort of premium gating to return a bit of scarcity to the digital space and play with ideas like deluxe editions and hidden tracks in ways that the infinite streaming buffet has largely done away with. I'm certain paywalls won't get wielded to this end (and services like Bandcamp already afford users this sort of flexibility on pricing and content-gating), but it will be interesting to see if the relative success of this tactic in China travels to the U.S. and Europe (or, perhaps more interestingly, emerging streaming markets like Nigeria, India, South Africa, and Brazil, for example) and changes the way Spotify and Apple treat the music on their platforms.
Also notable: Tencent has rolled this strategy out gradually. It might flip the switch more abruptly in 2020, but Pang and the company's other decision makers have been wise to move slowly in introducing this concept. Their U.S. counterparts could learn from pricing models that lean more into actual consumer demand, rather than forcing consumer behavior with blanket rates. Paywalls are undoubtedly onerous, but might provide a more realistic window into which songs and artists listeners truly care about.
(Sourced from Music Business Worldwide, but you can read Tencent's quarterly report here)
£49.50
Since 2011, NTS has carved a place as an important independent platform in online radio, with events and merch spawning from its beginnings. With refreshing, tasteful programming, well curated playlists, and a genre agnostic approaches that promises a bit of everything for the curious listener, NTS feels like a hybrid of BBC Radio 1, LA's KCRW, Boiler Room, and the best of the blogs of yesteryear. More than anything, however, NTS has evolved into a brand connoting a certain taste level among its listeners. It is not entirely surprising, then, that the launch of the multi-hyphenate company's new NTS Friends membership club reads more like access to an artist fan club or new social club than, say, a streaming service. For £49.50 a year, Friends get:
A collection of five limited edition artist prints

Early access to an enhanced listener experience

20% off NTS merch

A numbered black metal NTS Friends card

The knowledge that you're helping to build a better NTS
The NTS Friends website accompanies these perks with a mission statement:
As the algorithm takes over, real music community is more important than ever.
Over the last eight years, we've thrown events, sold merchandise, collaborated with brand partners, and received funding from private individuals and the Arts Council. This has kept NTS running 24/7 and protected our creative freedom. It has also given a platform to thousands of artists and resident DJs, most of whom part-own NTS. But as more people tune in around the world, our music licensing fees go up, and the pressures on our streaming infrastructure increase.
NTS is dedicated to helping people discover incredible music. To stay ad-free and keep innovating, we need a little help from our friends.
The £49.50 fee will go towards "global music licensing fees, streaming infrastructure, studio maintenance, building new tech features, [and] the costs of creating thousands of hours of great radio, and the 30 NTS staff that keep it all going."
It would be curious to see the estimates that led to this fee (which works out to £4.12 a month), as it seems mostly like a cost-covering measure for the expansion of a great, niche company people love. It's especially interesting at a time when Rolling Stone is wondering aloud why streaming services haven't increased prices in a decade. Sure, NTS is not a typical streaming service and it does offer more tangible benefits for membership (though I'm not sure what that metal card gets you), but this sets it up to potential pivot into a boutique streaming experience that artists could utilize NTS architecture and audience for premiering exclusive content. NTS Friends' fee is nominal compared to other streaming services, and likely the sort of thing obsessives with disposable income who already subscribe to one service or another wouldn't think twice about tacking onto their yearly dues.

It's also nice to see a bit (just a touch) of transparency when it comes to justification for this fee. Surely not everything will go towards licensing fees and infrastructure, but I trust the company's messaging as its well in keeping with their history.
(Source: Music Business Worldwide)
---
As always, here's a playlist for your troubles. Beam's album 95 still gets heavy burn on my personal playlists; "MAD GAAL" has probably pulled into pole position as my favorite song on the album, a dizzying collision of deep house and dance hall that showcases the young Jamaican singer/rapper flexing his strongest melodic instincts. Burial (probably my favorite producer/DJ ever) released a collection of his singles from the last decade. In honor of that, I put two favorites of his on the playlist, one from the collection ("Claustro") and one from his masterpiece Untrue ("Endorphin"). I rounded things our with a one two punch of Tribe Called Quest and Griselda. This is probably the only playlist you'll find that traces a line from My Bloody Valentine to Nick Drake to Beam to Griselda, it makes precious little sense, and I'd have it no other way.
Listen here.