Applied Science: Behind The Numbers, 11/10/2019
Because I'm a nerd!
Every few weeks, I'm going to take a look at some interesting numbers in music and give a little insight into the intrigue behind them. This format is directly inspired by The 538's Significant Digits and former Sig Dig author Walt Hickey's newsletter Numlock News, two great ways to digest a lot of news at once through a reader-friendly format. Since the format doesn't seem to be proprietary (and in homage because I'm such a fan of both newsletters), I figured I'd refit it specifically to music data and news. You should subscribe to them both. As with everything else Applied Science-related, this is also an experiment.
1,468,833 streams
Do you know who Arizona Zervas is? It would hard to blame you for being unaware. If you work in or adjacent to an A&R department, you've undoubtedly heard the name by now and been dispatched to whatever corner of the US he's in to deliver a massive novelty-sized check to him. Zervas' "Roxanne" has exploded from the seeming ether over the past few weeks, galvanizing a label feeding frenzy that feels both historic and like a bellwether of the exhausting new normal (as evidenced by the emergence of Ant Saunders, the next Arizona Zervas before the first Arizona Zervas has had a chance to even be the first Arizona Zervas). What is that new normal? Typically, it looks like this:
A song comes out.
It explodes on Tik-Tok (or across social platforms).
Then on Spotify.
Then on YouTube (or vice versa).
Then it's just exploding across the board.
It becomes a streaming hit.
Labels descend like piranhas on a bleeding cow in the Amazon. They throw money at it.
As it grows, radio is forced to follow suit and program it.
It becomes a bigger hit.
When I wrote this (Saturday, 11/9), "Roxanne" was the daily leader on Spotify's US Charts. It still is today. It's averaging well over one million streams daily over the last two weeks. It was one of only five songs on Saturday's chart over the one million mark. The others come from Travis Scott, Post Malone, Juice WRLD ft. NBA YoungBoy, and Selena Gomez, a staggering feat when you think about how much money and marketing goes into making hits of those artists' songs. It feels only right that a year which began with the meteoric, unexpected ascent of Lil Nas X should near its close with yet another explosive surprise hit.
20 songs
Two artists share the lead for most Billboard Hot 100 charting records in 2019: Post Malone and DaBaby. The former, at this point, is a chart stalwart, an artist for whom the very release of music feels like a guarantee of success, every song a self-fulfilling prophecy that sucks up radio and playlist oxygen like Mega Maid from Spaceballs. The latter is 2019's breakout star, a rapper who, as many have noted, really likes to rap in a way that feels familiar and invigorating for people who don't understand why Young Thug is just as important a stylistic innovator as those of decades past. DaBaby is fantastic, but his style hearkens back to a seemingly bygone era (while, in my opinion, showing signs of a wave to come). DaBaby's success comes in no small measure from the fact that he does indeed stand out in a sea of sound-alikes and mostly melodic hip-hop. It is no coincidence that the year's two Billboard leaders team up on one of the year's best pop-rap songs, "Enemies." It is also fucking incredible that a guy who almost always starts rapping before the beats on his songs start has more Billboard Hot 100 entries than pop titan Taylor Swift (this is undoubtedly due in no small part to the fact that DaBaby released two albums and has featured on a LOT of big songs, but still...pretty wild).
(Per Complex's Instagram)
57.8 Million
YoungBoy Never Broke Again is the most streamed artist in the United States on YouTube this week, as he has been for most of 2019. He notched 20 million more streams than the artist in second place, Kevin Gates. Coincidentally (or perhaps not so coincidentally), both rappers are from Baton Rouge, Louisiana. Both are artists who favor more traditional street rapping to modern melodic fixations, their songs rife with dark detail and pathos. Seven of the top 10 artists on YouTube this week are rappers or hip-hop adjacent artists (such as Chris Brown). Two of them are Spanish language superstars (Bad Bunny and J Balvin). One is Selena Gomez. While YoungBoy has recently started to accelerate on other platforms (Spotify, in particular), a considerable gulf remains between his popularity on YouTube and across other social platforms and DSPs. In fact, you can see a clear difference between the artists succeeding on YouTube (first chart) and those on Spotify: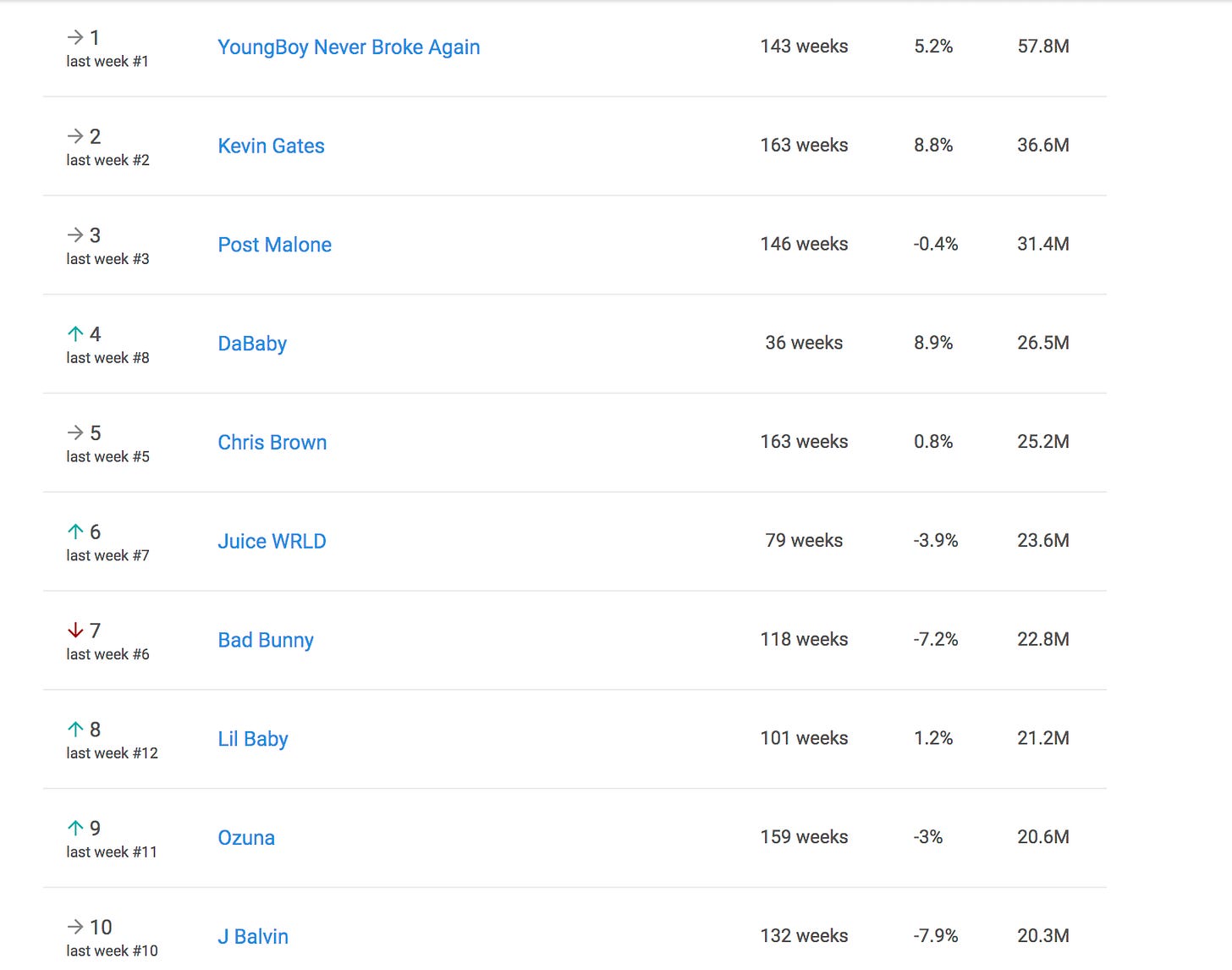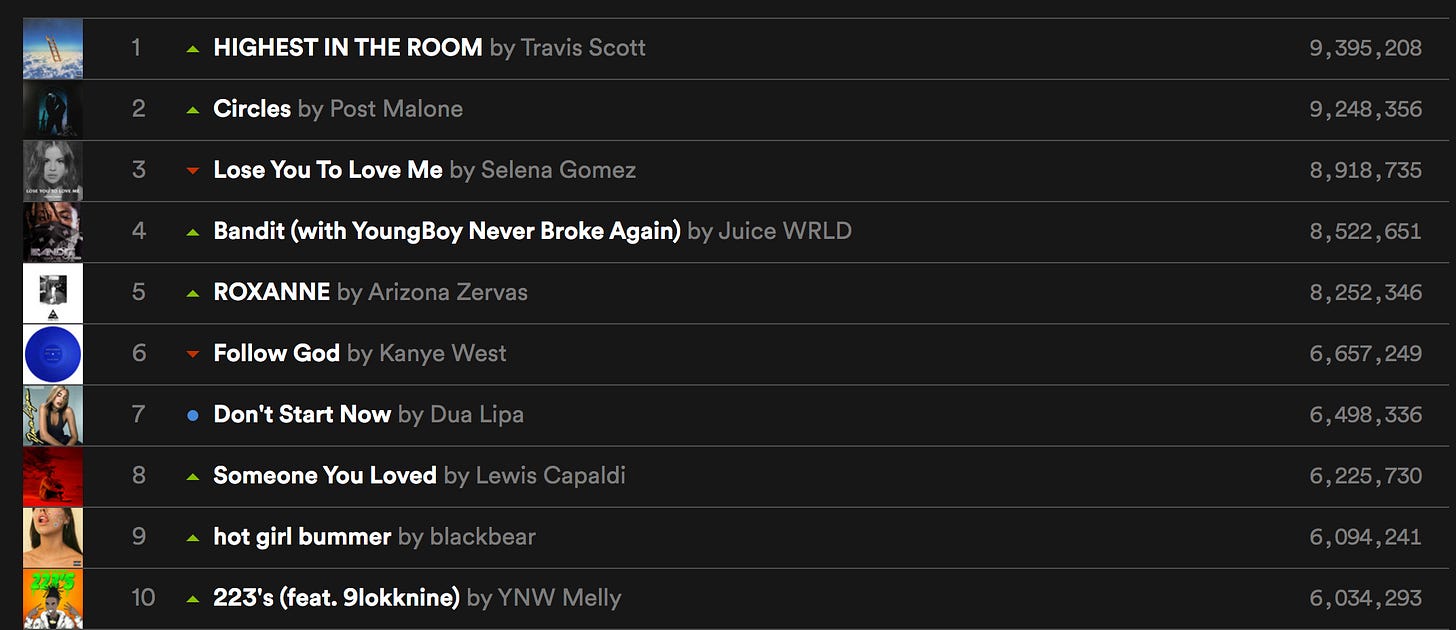 Hip-hop is prevalent in the US on both platforms, but Spotify seems to favor pop more (and also to favor hip-hop that could more readily be slipped into pop-friendly playlist formats, so it seems). This could be due to the nature of Spotify's editorial decisions, but I think there's more going on here. While I don't have the research to back this up yet (and admittedly have only been formulating this thought for the last few weeks), I sense there are some socioeconomic factors at play that affect how different fanbases and communities access and consume music. Research has revealed programmatic racial bias in medical and facial recognition technologies. It's likely time to take a closer look at the persistent racial biases informing the ways in which major establishments evaluate the popularity of artists and songs. We must think about how traditional gatekeepers and technology itself—replete with systemic deficiencies designed by humans—can influence what constitutes a hit as much as it reflects the songs that explode. There is a lot more to explore here, which I plan to do in a full edition.
(See the YouTube charts here and the Spotify charts here)
€9.65 Billion
This week's CISAC (International Confederation of Societies of Authors and Composers) published its annual report on global music collections, touting the fifth consecutive year of growth and a staggering €9.65 billion in collected revenue globally (with a 30% increase in digital royalties, accounting for €1.64bn total). This report (and these sorts of industry reports in general) remind me of a Lewis Black joke from his 2006 Carnegie Hall recording (which, I coincidentally attended). Lamenting the distracting tickers that pollute modern news networks, Black takes a beat to point out the stock market ticker in particular, which he notes, "basically is telling most Americans: somebody's getting rich, and it's not YOU!" I always receive these reports with mixed feelings. On the one hand, they have recently borne good news (the industry is healthy!) and generally spell out messages I can get behind (fight for creators' rights so they can be paid more!). The numbers that open CISAC's report paint the portrait of an industry in continued ascent, broad brush strokes using big revenues and year of year percentage growth to not only serve up cause for celebration, but also seemingly to justify the strength and necessity of established collections societies in an age of continued digital expansion and disruption. So, my question in the spirit of Lewis Black: WHO, exactly, is benefitting from this financial windfall? While CISAC's report is not entirely unspecific (and also speaks of artists in media beyond music alone), there is the glaring sense in this report as in so many others like it that the winners are big companies and superstar artists. If you can stomach the report, you should read it. It's dense, but informative. Still, these sorts of reports and the economic thinking behind them obscure the individual creator, the small team around them, and so many cogs in the larger machine that help provide reason for industry-wide celebration without always benefitting in the same fashion as the big players. Just as we need to continually rethink how our charts work, it might also be time to figure out ways of reporting this sort of information that also do a better job of highlighting the challenges facing the individual creator (and the ways teams can work to address them).
(First spotted on Music Business Worldwide. Download the CISAC Global Collections 2019 report here.)
---
As always, here's a playlist for your troubles. I spent a lot of time this past week listening to BEAM's new project 95, whose standout title track is the fantastic Cypress Hill / House of Pain-hybrid on it you didn't know you wanted in 2019. Also included a bit of instrumental stuff that soundtracked some of my favorite travels this year, like Montreal trio Planet Giza's "Ambush" and Detroit beat stalwart Wajeed's "From the Dirt." There's also some Mobb Deep on it because I wrote this while in New York for a wedding and it was cold. This is probably the only playlist that promises to draw a path between Sturgill Simpson, Detroit house, and paranoid New York rap. Oh and also a little taste of soulful apocalypse from Michael Kiwanuka. A well-balanced diet.
---
Powered by CreateSafe.