Applied Science #0
Or why I've decided to start writing about music again after three years of not writing about music.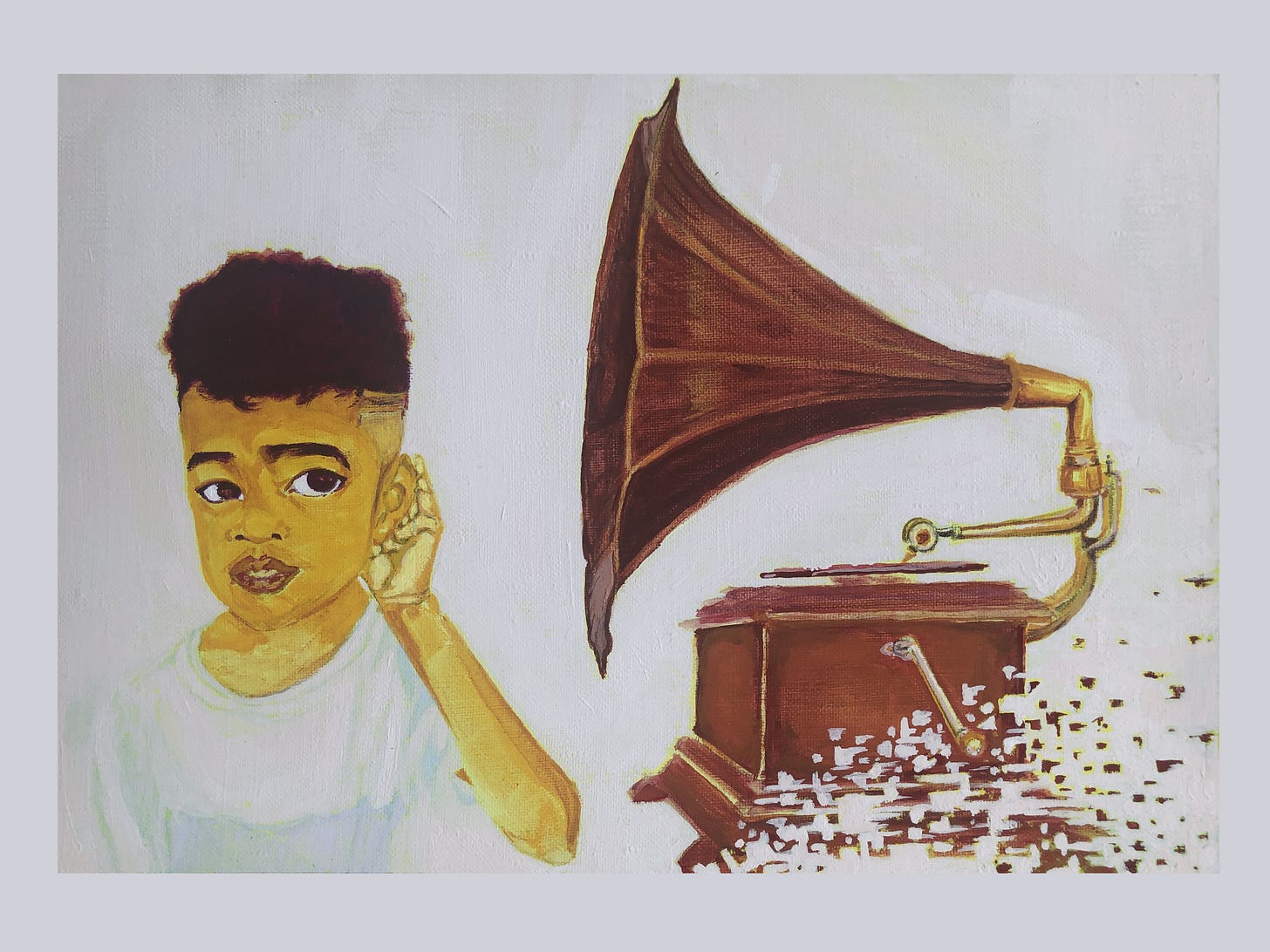 [Original artwork by Aqeel Ameen]
One of the music business' key problems is that we as an industry, tend to look inward for solutions rather than outward. That instinct often results in gossip, bad action, and shortsightedness. We end up repeating the mistakes of our predecessors. We narrow our world views, focused on hit records at the expense of sustainable systems and lifestyles.
Reading books and articles specific to the music business can be helpful, but sometimes it pays to step outside the frame. So this is Applied Science, an attempt to thread my musical concerns through problems, solutions, and concepts from other thinkers and fields. Here's a little explanation of how we got here…
I've been working in music since I was 24—23 if you count a year of scraping together odd opportunities here and there: Producing low-budget music videos (and getting clotheslined in an Action Bronson video), writing for the site Pigeons and Planes, making beats for rapper friends. My first proper job was an A&R manager position at Epic Records in 2013—close to the industry's lowest days, three years before streaming restored the promise of the record business.
Before Epic hired me, I'd bummed around recording studios, making beats and hoping to become the next DJ Premier or DJ Shadow (I became neither, but I did once meet DJ Premier in the Detroit airport. He was very kind.). I worked odd jobs in film (mostly as a location scout, finding locations for movies and shows). I had no obvious mentor in music save for an A&R guy who gave me an internship at Motown when I was a senior in college (the incredibly gracious, endlessly solid Corey Roberts). Two years later, he'd be leaving a position at Epic. He asked me if I wanted to interview for it, backed by his recommendation. That was in late November 2012, around Thanksgiving. Three weeks later, I sat in an all-white office in Los Angeles across from a childhood idol, L.A. Reid. It was the day of the Sandy Hook shooting—something I'll never forget because my first memory of Reid was listening to him talk about how fucked up he was by the news. "That could have been my kids," he told an associate.
An hour later I had an offer for my first job in the music business—a moment that felt ripped out of Get Him To The Greek.
Seven months later I got laid off, my job eliminated as part of a "departmental restructuring" (my first brush with the romantic language of the corporate machine). I had signed nothing. I had not brought any clear value to the company. I felt dazed.
During the months that followed, I sat in my bedroom in my parents' apartment, firing off emails, trying to figure out what I was going to do next. I had no established life in the business before Epic. No real ties to other executives or seasoned veterans. No one I could call a mentor. I read. I listened to lots of music. I continued writing for P&P. I tried to get coffee with as many people as I could. I came down with a stomach virus that laid me out for 48 hours, inspiring me to watch Apocalypse Now twice in a row, and wrote about the experience of the "wilderness" (whatever I was envisioning while my rattled brain swirled visions of Coppola's Cambodian jungle). I'm not sure what I was doing at that point, but I wouldn't really classify it as "working in the music business."
I wasn't out of it either. The night I got laid off, months before I had my stomach virus visions, I went down to the apartment of two promising producers I'd known for months and told them I wanted to manage them officially. I was worried they'd say no. After all, I wasn't the young label A&R with crazy ideas anymore—now I was just a dude with crazy ideas and a severance check, living at his parents' apartment, trying to convince his then-girlfriend that, yes, music was still a good idea, and, yes, I really was working when I sat in a coffee shop for hours shooting emails into the abyss and hoping for the best.
To my surprise and delight, they said yes. What a fucking thrill! My only issue: I wasn't really sure what "management" meant. I had a vague understanding of what a manager did: some of the creative elements, some of the administrative aspects, the negotiations and contracts, making sure the money was good (even if I didn't know how to invoice a label for fees or royalties yet). I cobbled together knowledge from friends and colleagues, but so much advice in this business can be amorphous, taken from experience and turned into vagaries. Sometimes, like a Zen koan, you'd find real insight in those vagaries, but never as much as you could hope to get from working alongside a mentor and absorbing their best practices—something I still sorely needed.
Six years from that fateful night Epic laid me off, I still manage those two producers. They're Take A Daytrip, a rising production team based in New York that I've basically spent my entire working life alongside. We've celebrated triumphs small and large alike, weathered storms and droughts, and mostly hurdled forward through trial and error.
I have adopted a few mentors along the way, people whom I'm privileged and grateful to know: Daouda Leonard, Tim Smith, Kirk Harding, Jessica Rivera, Beka Tischker, Corey Roberts, Erik Eger, Jody Gerson, Guy Moot, Tunji Balogun, Jenn Knoepfle, Peter Edge, Jacob Moore (better known as Confusion). I am deeply thankful for these people—for their knowledge, their time, and the opportunities they've afforded me. Throughout my career, I've learned that so many in this business think only of this business, rarely looking outward for lessons from other disciplines to apply to the game of making hits. I learned a lot about music from these people, but also a lot about how to synthesize a broader perspective into your musical concerns. What mentors didn't teach, I cobbled together through sleepless nights, repetition, and informative failure.
In November 2018, a few days after Thanksgiving, during the holiday lull that every music industry employee comes to love, my father passed away. I spent the weeks after my father's death poring through his files, his notes, his will, his bank accounts, and the numerous government documents that pile up around a passing, learning how to get an estate in order. I gravitated to reading and writing, searching for meaning and mooring while work and life felt empty to me—ash, as so many things became.
One night, in a hazy burst of inspiration, I sat down at my computer after reading one of my favorite tech newsletters and pulled a few quotes. I was thinking about how these words applied to the music business. I didn't have a goal in mind or much of a clear purpose—I just wanted to write fast and all at once, hurling observations and theories onto the page as quickly as they came. I looked around my childhood bedroom—the same one that hosted my fever dreams five years earlier—and thought about all the ideas buried in the books around me, all the lessons that could be distilled and extrapolated from other worlds, all the thoughts of others that could be channeled into critically thinking about this business. It wasn't reinventing the wheel, but it felt like a decision made in the pursuit of personal truth: applying the scattered pieces I'd read over the years to the industry I'd been trying to figure out for half a decade.
I hadn't written about music in nearly two years. I'd rarely written about it in this form—the perspective of an inside man, trying to make sense of the work and the wider world in which it resides. It was the product of a career built from little structure and intermittent mentors—the product of that "great fumbling through the wilderness" I wrote about when I could barely keep my dinner down.
Applied Science is my attempt to figure this shit out, in real time, by synthesizing things I read and conversations I have with situations I face. I'm 30 years old. I'm a manager, label co-founder, publisher, and general crazy person who loves to wax poetic about the insanity of the music industry past and present. I don't even begin to think I have all the answers; the minute you think you know the field, the terrain changes and you're operating on old intel. I'm trying to unearth the human machinery under the business, figure out some ideologies and tools that can help navigate it, and share some of my experiences and thoughts to help others on the path to a career in music.
It has taken a while to decide to publish these pieces and to take on a new, public writing endeavor. I have been frightened, undoubtedly. Many of these ideas were vomited up in a bolt of mournful adrenaline. They are the beginning of a project with no evident end. A staircase to nowhere that might lead to somewhere—at best, an experimental roadmap. It will undoubtedly change. For now, please humor me as I go down the rabbit hole.
I'll be publishing every other week, but maybe more if my brain calls for it and my schedule allows.
---
Stealing a page from my good friend Lucas Shaw (whose newsletter Hollywood Torrent is essential reading for anyone with an interest in the media business), I'm going to close each edition of Applied Science with what I'm listening to—some picks and a playlist. This week as I landed in New York, I loaded up My Bloody Valentine's Loveless for the first time. I know. I'm very late. The first album I bought was Gangsta's Paradise, indie music doesn't come easily to me. As nearly 30 years of breathless press and imitative bands can attest, Loveless is a perfect album and it hit me at a perfect time (gorgeous and melancholy like New York fall). Sturgill Simpson's new album SOUND & FURY is great. Sturgill Simpson is just great. MAVI is one of the many acolytes of the quickly growing cult of Earl Sweatshirt, and he's awesome (the comparison is not a diss and not meant to lazily place him on a continuum, but more as a testament to just how quietly broad Earl's influence has been for a certain strain of young rappers). Here's a playlist of some of these things and more.
---
Powered by CreateSafe.
---
A note on the artwork: The image leading this piece is meant to be representative of kids that aren't necessarily me—that don't look like me, don't come from where I'm from, don't benefit from the same privilege I have—searching for answers and guidance in an industry that so often doesn't provide it. It was created by Aqeel Ameen and, I believe, is based on his son. While this introductory issue is largely autobiographical, I wanted to work with an artist to create an image that was more representative in nature than one that purely reflected my story. I am writing because I felt a burning passion to write while confronting a personal tragedy, but I know that many versions of this story exist and deserve—demand—telling in order to help make this industry more inclusive and less aggressively terrible. My hope is that I can express my experience and inspire those that come from very different backgrounds in the process, and work on creating space for others to step forward and tell stories that diverge from mine.